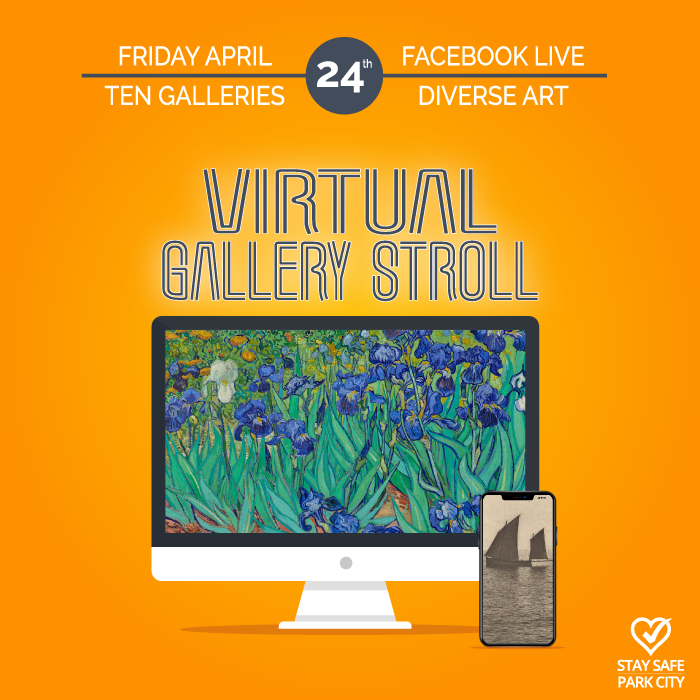 Celebrate our local galleries this month with the Arts Council and the Park City Gallery Association. Explore the creative studio/gallery spaces of our amazing local galleries ONLINE!
From 6-9pm on Friday, April 24th, a representative from each participating Park City gallery will lead you through a 15 minute tour of some of their favorite pieces from local artists in their gallery. See the tour on the Arts Council's Facebook page.
We're encouraging everyone to make an evening out of it — grab some curbside pick-up from one of your favorite local restaurants, and take it home to enjoy during the live gallery stroll! Use the code "ARTS" when you call in an order to get a 20% discount on food from participating restaurants including Riverhorse Provisions, Tupelo, Hearth and Hill, Fuego Bistro & Pizzeria, and Bangkok Thai.
You will be able to purchase the pieces shown during the tour online by contacting the participating gallery directly.
Virtual Tour Gallery Schedule
6:00 pm: Prospect Pop Up
6:00 pm: Summit Gallery
6:30 pm: J GO Gallery
6:45 pm: Bret Webster Images
7:00 pm: Kranstover Gallery
7:15 pm: Meyer Gallery
7:30 pm: Trove Gallery
7:45 pm: Terzian Gallery
8:00 pm: Gallery Mar
8:15 pm: Timbre Art Loft
8:30 pm: Kimball Arts Center
8:45pm: Friends of Ski Mountain History
Make an evening of it. Order curbside pick-up from one of your favorite local restaurants and settle on the couch for a night of local art and delicious food.
>> https://parkcityrestaurants.com/whats-fresh/curbside-dining-and-drive-thru-service
Join the Virtual Gallery Stroll and support the local creative sector with fellow art lovers online! All you have to do to participate is stay tuned on the PCSC Arts Council's Facebook page on the evening of April 24th starting at 6pm.
More info here https://www.parkcitygalleryassociation.com/gallery-strolls/
#ArtConnectsUs#ArtNeverStops